Study BBM in Nepal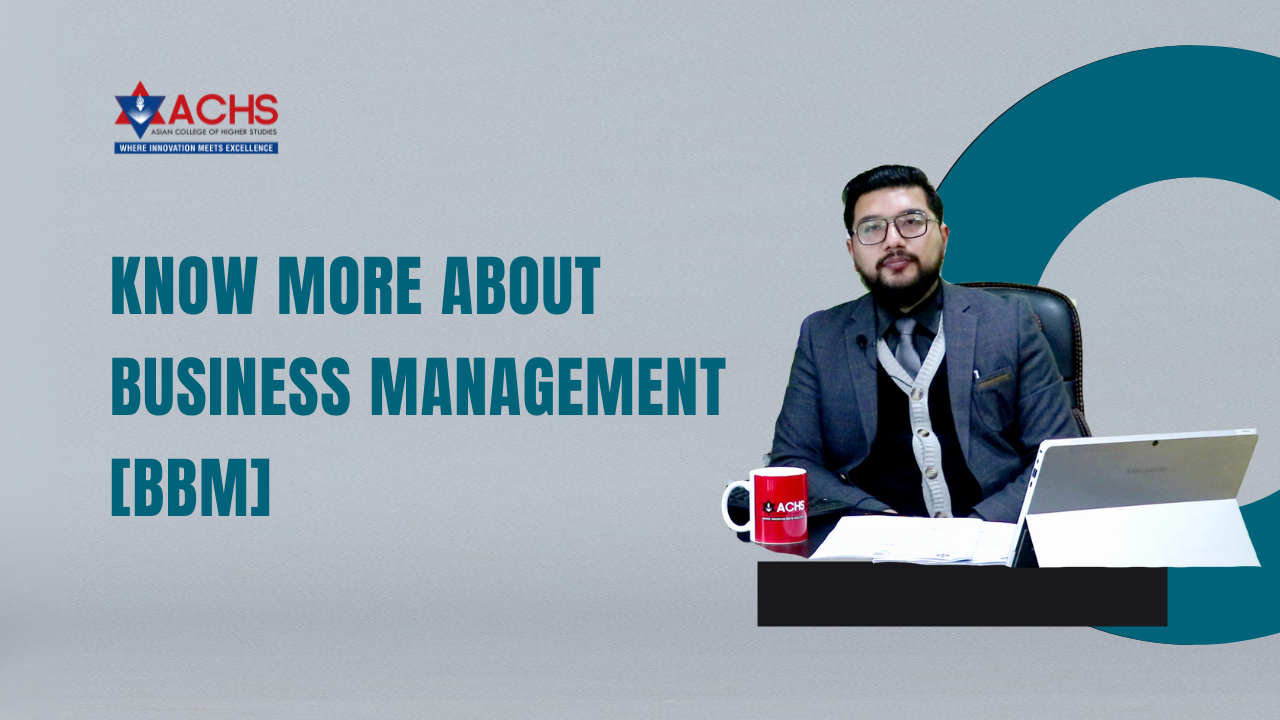 Selecting the perfect study program and place to study BBM in Nepal is a crucial decision that will have a huge influence on your future. This blog will provide you some food for your thoughts if you have recently completed your +2 education and are interested in a career in business but are unsure which career path to choose to follow your ambition. Before you continue, consider why obtaining a bachelor's degree in Nepal is preferable to studying overseas.
What is Business Management?
The Business Management program is an industry-based management course that enables students to build critical and analytical abilities as well as an in-depth understanding of many business topics. It cultivates abilities such as entrepreneurship, interpersonal communication, and leadership that aid graduates in obtaining better work chances and professional advancement. As a result, it is aimed towards aspiring future company executives and managers.

The program is designed with the following objectives:

A. Develop students' skills in creative thinking, decision making, leadership, communication, and gain an understanding of operations and change.
B. Develop students' understanding of entrepreneurship and innovation, and effective management of business operations in a dynamic business environment.
C. Prepare students for professional life to work as business managers and entrepreneurs.
Business Management Vs Business Administration
In terms of Tribhuvan University (TU) we can find only a subtle difference between BBA and BBM. Both the courses comprise 4 years of duration with 8 semesters offered with 120 Credit Hours. The teaching-learning pedagogy and assessment are the same for both the courses including the student marking evaluation through 60 marks of board examination and 40 marks of internal assessment with the same grading system.

We can find a major difference in the specializations offered by both the courses. BBM provides specialization in:
I. Bank Operations and Cooperative Management
II. Sales and Marketing
III. Insurance and Risk Management
IV. Entrepreneurship and Enterprise Development
IV. Accounting.
While BBA provides specialization in:
I. Banking and Finance
II. Industry and Services Management
III. Micro-Enterprise Management
IV. Sales and Marketing Management
V. Account Specialization
Additionally, we can find 9 elective courses in BBM during the 4-year long span of time:
I. Emerging Global Business Issues
II. Management of Foreign Trade
III. Organizational Development and Change
IV. Budgeting and Financial Forecasting
V. Event Management
VI. Service Operations Management
VII. Labor Relations Management
VIII Negotiation Skills
IX Real estate Management
Due to the existence of another prominent business and management curriculum – BBA – since Tribhuvan University established a new business and management curriculum in the shape of Bachelor of Business Management (BBM), it has been seen as a sub-par education by management students. However, this might be viewed as a misunderstanding on the part of the students, as they do not fully comprehend the curriculum and the benefits of BBM, and few experts have attempted to explain this. We are attempting to illustrate why management professionals feel BBM is a considerably excellent management degree presently. Some key benefits of studying BBM are listed below:

A. You can specialize in what you want to do with your career with five different specializations.
B. BBM is the only curriculum where you can specialize in Entrepreneurship.
C. BBM offers an advanced accounting curriculum that includes computer-based financial accounting as well as a theoretical approach and paper-based practice of accounting.
D. Do you know that in BBM, you may pick from nine elective courses? These optional courses can help you achieve your dual specialization BBM degree.
E. BBM opens the doors for amazing career prospects in your interested field.
Business Management in Nepal
The BBM curriculum at Tribhuvan University's Faculty of Management is an industry-based management degree that educates students to acquire critical and analytical abilities as well as in-depth understanding of many facets of business.

BBM graduates have the knowledge, skills, and self-confidence to help with effective and successful management in a rapidly changing and highly competitive national and global business environment. This course was created with the goal of developing middle-level managerial talent in various sectors.

The student-centered learning approach is applied in the BBM program. Interactive lectures, student presentations, case studies, and projects are all part of the program's basic teaching style. The teaching faculty is responsible for determining the best teaching-learning strategies for each subject.
What are the Career Opportunities in the Business Sector in Nepal?
After acquiring a BBM degree, you will have a plethora of work opportunities. Job options following BBM are mostly determined by the students' interests. The following are some of the sectors/areas where BBM graduates are employed:
A. Sales & Marketing
B. Retail
C. Hospitality
D. Banking & Insurance
E. Consultancies
F. Industrial Houses
G. Educational Institutes
H. Public Sector Enterprises
I. Marketing Organizations
J. Export Companies
Eligibility for BBM in Nepal
There are some of the very basic criteria for an aspirant to study BBM in Nepal. Students applying for admission to the BBM program must have:
i. Successfully completed a 12-year schooling program or its equivalent from any university, board, or institution recognized by Tribhuvan University.
ii. Minimum D+ grade in each subject in grades 11 and 12 with a grade point average (gpa) of 1.80 or above / Obtained at least second division in the 10+2, PCL, or comparable program
iii. Complied with all the application procedures.
ADMISSION CRITERIA

Written Test:
Eligible applicants must take the Central Management Admission Test (CMAT), which is administered by the Faculty of Management. The exam will be conducted in accordance with worldwide testing patterns and standards. It covers topic such as:
I. Verbal ability
ii. Quantitative ability
iii. Logical reasoning
iv. General awareness.

The CMAT will include a total of one hundred (100) objective questions, with twenty-five (25) questions in each part and a total weight of one hundred (100) marks. In order to be considered for the interview, students must score at least 40% on the CMAT.

Interview
Short-listed candidates will be the ones who have scored higher than the cut-off number in the CMAT. Only those who have been shortlisted will be interviewed and admitted.

If you are considering pursuing a bachelor's degree in business management and preparing for the entrance exam, we recommend seeking assistance from professionals or experienced individuals. Getting assistance from professionals or experienced people can benefit you not only in the written admission exam but also in the interview. You can begin preparing on your own if you are extremely confident.
Bachelor in Business Management: Course Highlight
Course Level: Under-Graduation
Duration: 4 Years
Examination Type: Semesters
Eligibility: Intermediate degree (+2) with a minimum of 50 percent or CGPA of 2 on a scale of 4 from a recognized university or board
Admission Process: Merit and Entrance Based
The BBM in Nepal has a significant impact on the national and global economies since it creates a significant amount of money and employment. Studying business management provides you an advantage over other professionals because of its adaptability and breadth of application.
BBM is one of the greatest areas to work in Nepal, and it pays highly. If you want a degree that will equip you with both leadership qualities and academic understanding, business management is the program for you. If you're thinking of enrolling in a business course, go ahead and do it.
Scope of BHM in Nepal
Because BBM teaches you specifically in one of the five core areas, you will have a fantastic job opportunity in that field, as you will be among the few who have been specifically prepared for that field and will stand out among others with other business and management degrees. In the fiscal year 2017/18, the country's entire insurance market grew by 22.74 percent to Rs 57.53 billion, up from Rs 46.87 billion in the previous fiscal year. This is a vast industry with a lot of room for expansion, and it will take thousands of skilled people to attain the potential market size. You'll have a lot of job options if you get a BBM in Insurance and Risk Management or Accounting.

Similarly, the BBM in Bank Operations and Cooperative Management is becoming a popular degree among banks and financial institutions since it provides students with superior training in banking. Sales and marketing are among the highest-paying and most creative occupations available to management students in Nepal. Students with a BBM in Sales and Marketing degree have a lot of opportunities to advance in the sales and marketing industry, especially because practically every company (whether manufacturing or service-based) needs a significant sales and marketing department. Entrepreneurship and Enterprise Development are the backbone for the development of any country that not only helps the students but also creates many job opportunities for the people living in the country solving the rapidly growing problem of unemployment. As a result, BBM graduates have unparalleled job opportunities following graduation.
Why is ACHS also one of the best BBM colleges in Nepal?

ACHS is one of the leading and professional BBM colleges in Nepal. In academic collaboration with Tribhuvan University in Nepal, ACHS offers a 4- year, 8- semester advanced business course commonly known as Bachelor of Business Management.
The program aims to equip students with abilities such as entrepreneurship, interpersonal communication, and leadership that aid graduates in obtaining better work chances and professional advancement. It covers a wide range of areas from the various levels of management in various businesses and organizations.

In addition, students also have the prospect of indulging in research and development relevant to the industry's emerging issues such as bank operations and cooperative management, sales and marketing, insurance and risk management, entrepreneurship and enterprise development, and accounting.

ACHS is a well-known campus with a large family of students from many fields, including Management and Information Technology. This implies that management students can swiftly work with IT students to build initiatives that combine the two disciplines. There isn't a better way to learn than to work on a collaborative project together.
The principle of Where Innovation Meets Excellence has been institutionalized at ACHS, which means that there are numerous learning opportunities outside of the classroom where you may put what you've learned in class into practice. These activities also help you build a variety of professional skills that can help you advance your career when you graduate.
ACHS has excellent teaching faculty members that have received updated management training. They not only give excellent education but also provide assistance with projects and personal/professional growth. One more important reason to study BBM at ACHS is the well-equipped learning facilities. Furthermore, several guest lectures from industry leaders provide you with not only a greater understanding of workplaces but also a lifetime networking opportunity. With all of these advantages, ACHS is one of the finest universities for BBM.
Share this post on: